Start your Siomai King Food Cart Franchise business now for only PHP 288,000.00.
Here are the steps on how to franchise Siomai King Food Cart.
You must have an ideal location where to put Siomai King Food Cart (We may have AVAILABLE LOCATIONS Ready to Franchise – Contact us to learn more)
Contact us to Get the Initial Requirements form of Ocular Inspection. You can email us at official@siomaikingfranchising.com or message us at our facebook page https://m.me/SiomaiKingPHL
Fill up the form and send to official@siomaikingfranchising.com
Our Company will conduct an Ocular inspection for that location
Once Approved, Pay the Franchise Fee ₱288,888.00 to our main office.
We will now start processing and building your cart.
Why Siomai King Food Cart Franchise?
Siomai King started in 2010 and is dubbed as "Ang Hari ng Siomai" because it is the first in offering 5 pieces of siomai in one serving.
Every bite is guaranteed with good taste and with no extenders which truly gives value for money. With its unique variants of Shanghai, Hongkong, Japanese and Chicken Siomai, no doubt you'll come back for more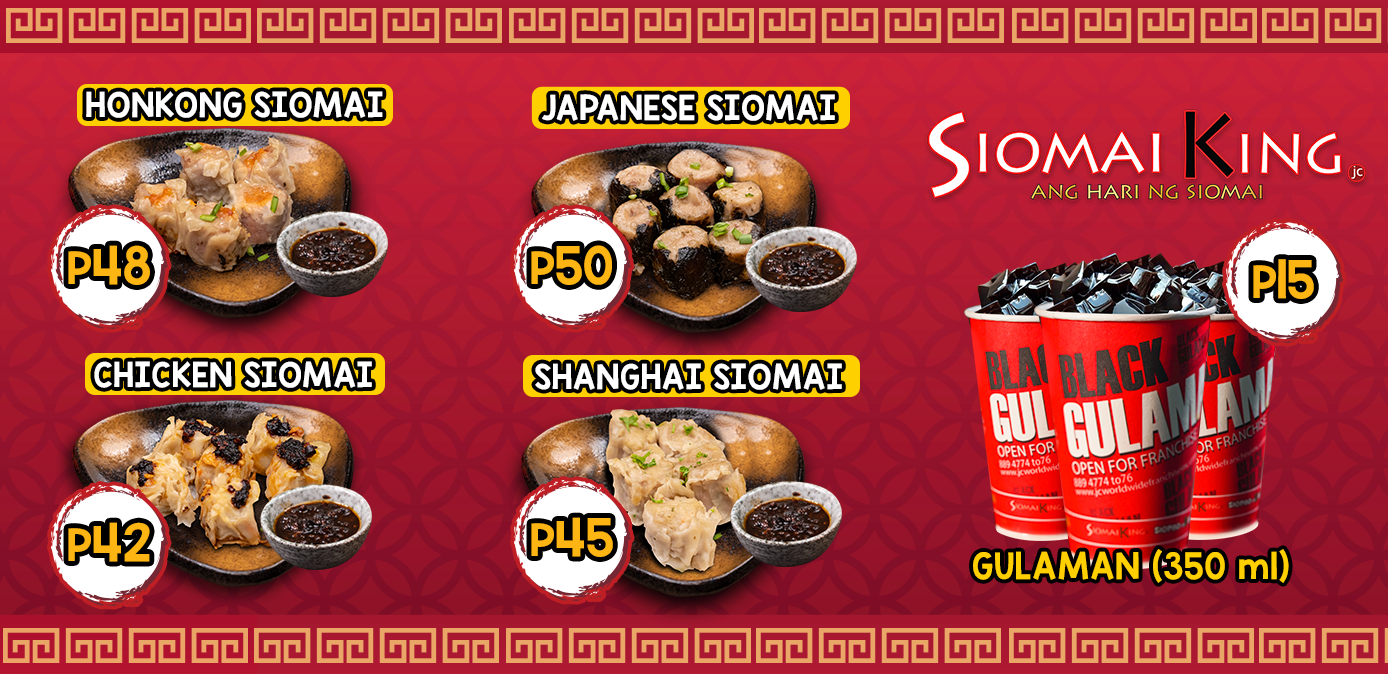 SHANGHAI SIOMAI – Pork and Veggies
HONGKONG SIOMAI – Pork and Garlic
JAPANESE SIOMAI – Shrimp and Seaweed
CHICKEN SIOMAI – Chicken (Halal certified)
Franchise Package Benefits and Inclusions
Use of Trade Name and Logo
Includes our inviting concept of "5-piece siomai in one serving".
Site Assistance
For those who would like to seek help in finding the right location.
NO Royalty and Renewal Fees
The good news is we do not have Renewal Fee and Royalty Fee which is one of the benefits of being a Franchisee unlike other Companies wherein their Franchise Fee is costly than us or almost P400,000.
Affordable Package
Low cost of franchise package available with undeniably overwhelming inclusions.
Training
Consists of the orientation of menu, preparation, use of the equipments, making of inventory reports and extensive on-site training during the first days of operation.
Extra Income and Enhancement of Entrepreneurial Skills
Investing means the need to have additional income for you and your family moreover deciding to invest means unleashing your goal to be an entrepreneur.
Products
Its tasty variations of siomai are made scrupulously with no extenders and from quality ingredients partnered with a refreshing gulaman juice.
Operating Support

Continuous monitoring and meticulous maintenance of the concept and operation is needed to assure the quality of service.
Marketing and Promotion
Constantly joins exhibits and events, being featured in Entrepreneur magazine, sponsors TV shows and being endorsed by celebrities.
How much will you Earn if you Franchise Siomai King Food Cart?
The answer will be based depending on your location or let say how many is the foot traffic in your Location. But below is our estimate or the Projection sales, this is based on our average computation in other branches (We have 1000 branches nationwide)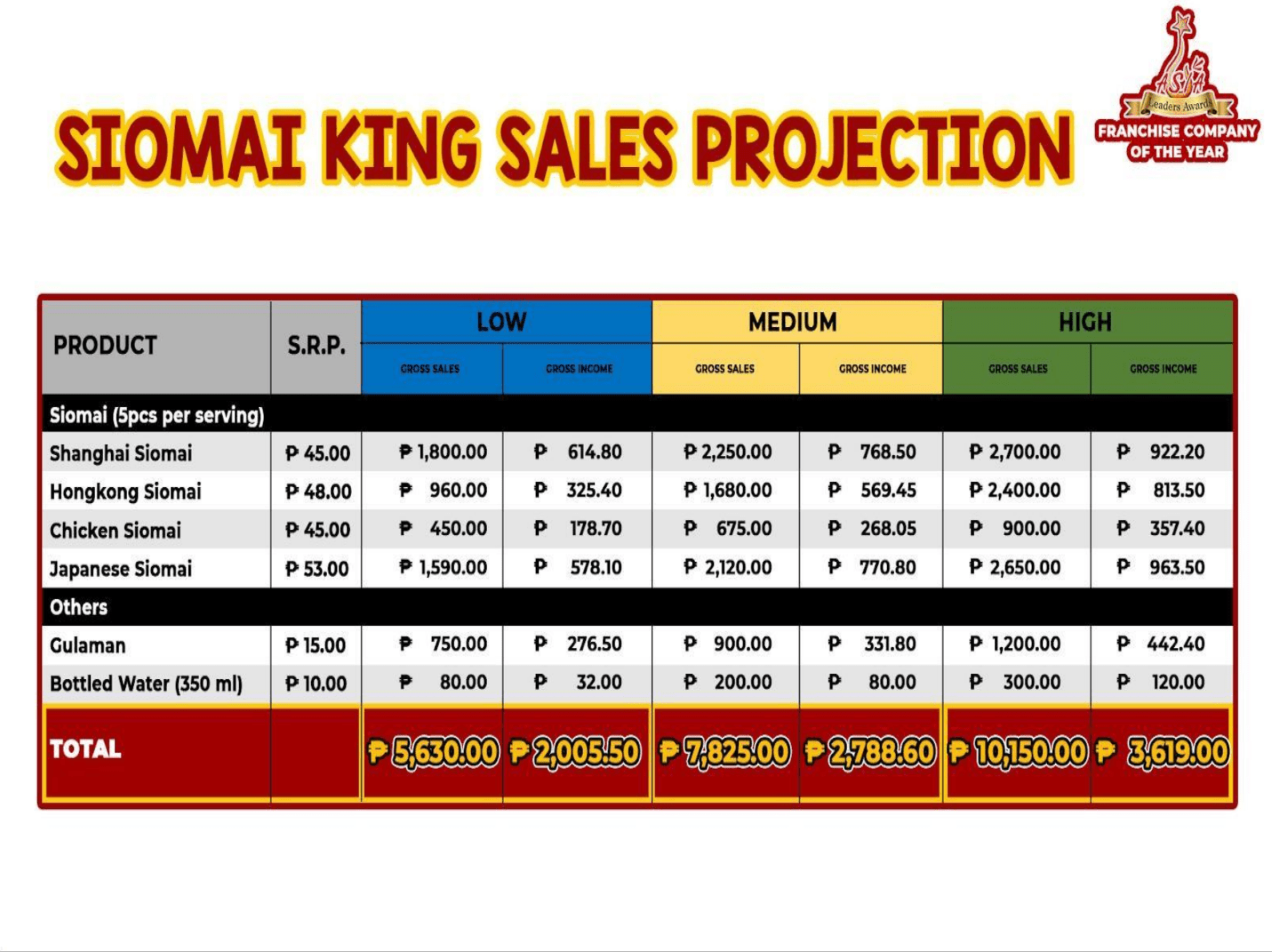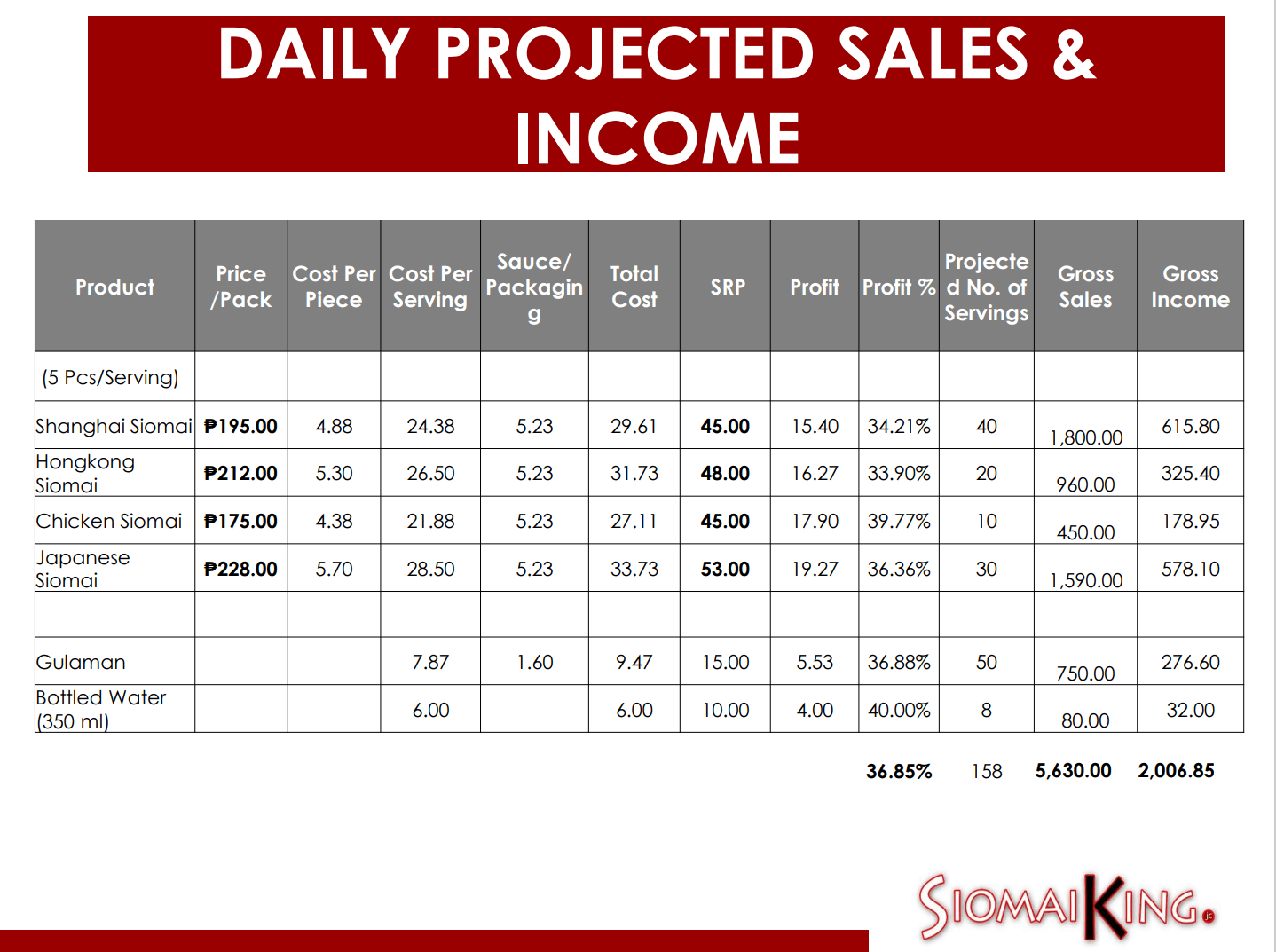 What is the ROI (Return of Investment)?
As you start a business, your one question will be – "How long can I get back my Capital?" – 12 months is our estimate ROI.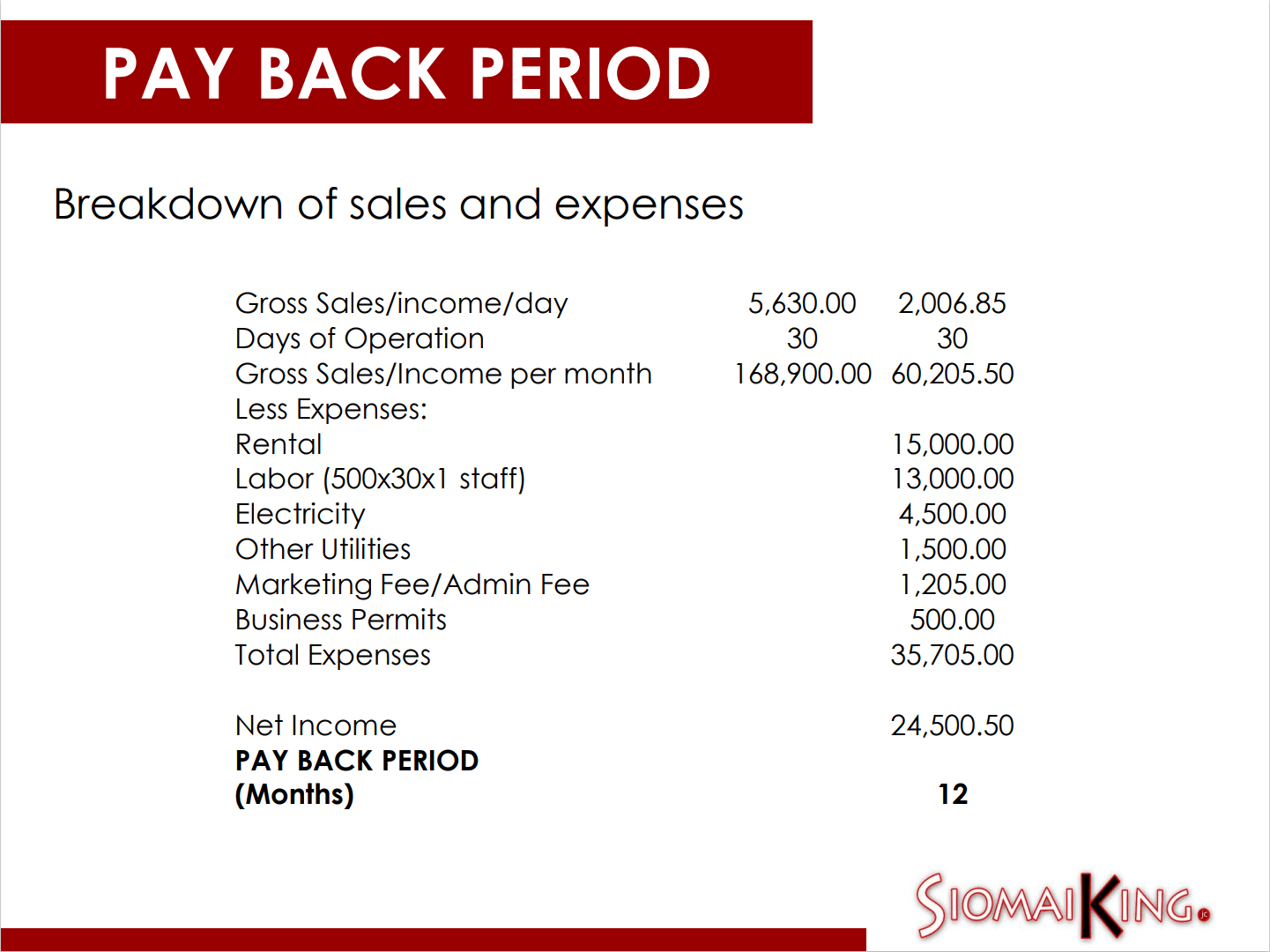 If you have question or clarification about this, feel free to contact us.
*Ocular Site inspection outside NCR and CALABARZON is not free. All expenses should be shoulder by the franchisee (Plane ticket, Accommodation and meal)